Meet Loop®
The easiest way to stay connected to the
people and things you love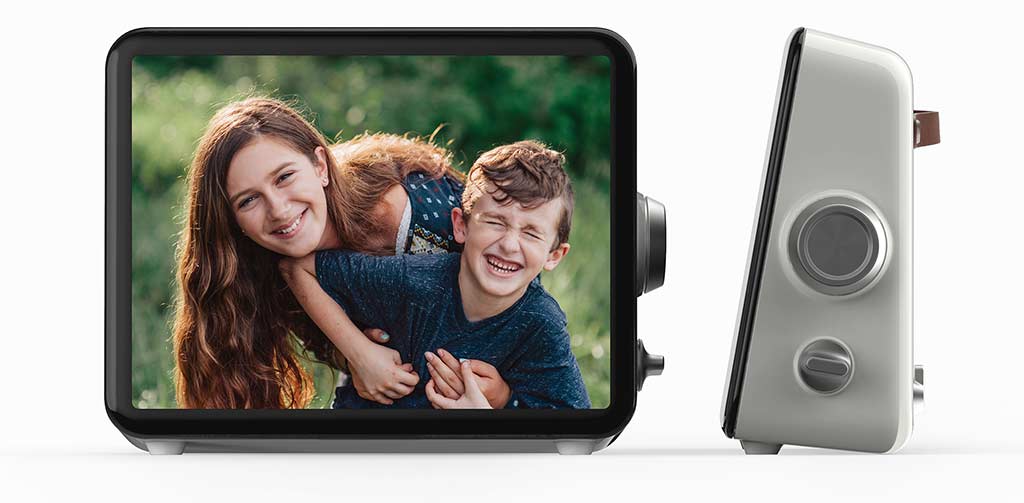 A personal Wi-Fi display that connects you with friends and family through photos, videos, and video chat.
Loop connects to all your sources of photos and videos and organizes them into channels

Private
"Family Favorites" Invite family to a private group channel
Facebook
"My Besties" Friends group albums or your photos and videos
Instagram
"Coolest of cars" Friends or hashtags
Dropbox
"Tahoe 2015" a folder in Dropbox
Create channels with
the tap of a button
Just select your source, choose the content, and the channel shows up on Loop.
Capture the moment and send pictures and videos directly to Loop
Just select a picture, add a caption and tap where you want it to go. It shows up in seconds on the Loop. Oh snap, it's that easy.
Invite your family to a private channel to keep everyone in the Loop
Analog simplicity meets digital convenience
Browse knob
Quickly skip through photos and videos
Channel knob
Flip through channels like a classic TV
Video chatting at home has
never been simpler
Just turn the dial and stay connected by video chat between
two Loops or between a smartphone and a Loop
Simple Setup
Sets up in minutes and it always stays fresh.
Portable
Unplug Loop and take it anywhere with 4 hours of battery.
YouTube
Use Loop to play your favorite videos from YouTube.
Specifications
10" high resolution
display
SD card reader
Wifi 802.11 AC and
Bluetooth 4.1
Ambient light
dimming
Order today and save up to 33%
$299 / $199
Buy now